Overview
Trip Outline
Trip Includes
Trip Excludes
Gallery
Reviews
Booking
FAQ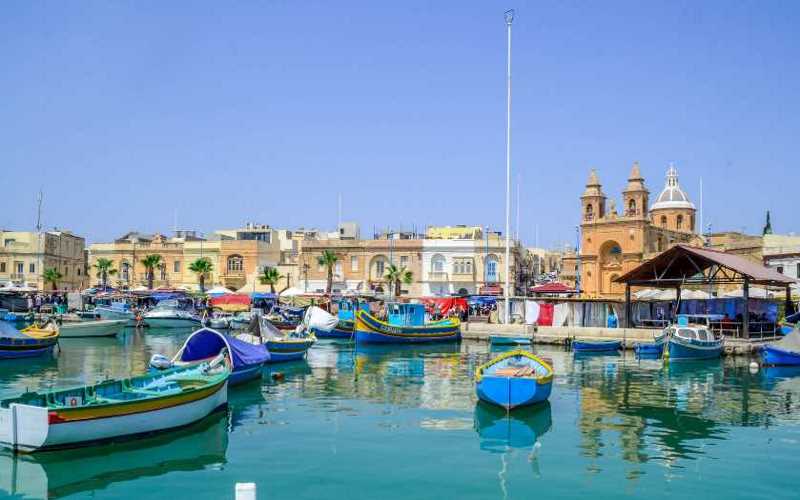 Marsaxlokk is one of the few villages in Malta that has survived globalization and maintained a traditional and indigenous Maltese way of life. A traditional fishing village in the southeastern region of Malta, it is known for its picturesque promenade, open-air markets, seafood and unique bathing places and is the perfect place to escape for all those who want to relax and try excellent, fresh seafood specialties. Open market except fish offers a delightful variety of traditional Maltese things, from handicrafts to home-made delicacies, as well as other less traditional items such as clothing and houseware. What will definitely be etched in your memory are the so-called luzzu and kajjik, traditional fishing boats. The port is full of these small, brightly colored ships. If you look more closely, you will notice that they have drawn eyes on the front. Drawn eyes are a mythological symbol and are believed to protect fishermen and sailors while at sea. Luzzu has its origins in Italy, and today it is almost non-existent. Marsaxlokk is one of the few places where you can see them.
What can you see and do in Marsaxlokk?
we singled out some of the best activities and the biggest attractions that will appeal to every tourist who chooses Marsaxlokk for their summer vacation in Malta.
Read more in What to see and Do tab.
Fort Delimara
Fort Delimara is one of the best destinations in Marsaxlokk. Built between the period of 1876 and 1888 by the British, it was very instrumental in the protection of Marsaxlokk harbour. Although it is said that there is a great need of restoration of the fort since it is under the danger of collapse due to the coastal winds, still holds very historical and important features such as the four of its original Victorian 12.5-inch muzzle loaded guns mounted on its dwarf carriages.
Xrobb-I-Ghrahin
Xrobb l-Ghagin is a sight to behold as are the views of Marsaxlokk village and port from this area. Thousands of years of erosion by fierce Mediterranean winter weather has carved the limestone cliffs. The headland is a Nature Park.
Delimara Lighthouse
Through the lighthouse you can have a wonderful view of Marsacala and Bizeburga which are found on the opposite side of the lighthouse. The lighthouse is also currently used as a means of traffic control.
Parish church
Among many attractions, parish church is also worth visiting in Marsaxlokk. It was a parished built by fishermen inorder to reduce travelling time when fishermen started building and settling along the sea coast. It is popularly known as Our Lady of Pompei.
St. Peter's Pool
This natural pool carved into smooth limestone rock is great for low-height cliff jumping.
St Lucian Tower
This ancient polygonal fort is now home to the Malta Aquaculture Research Centre. The impressive structure, built by the Order of St John in the 17th century is one of the largest watchtowers on the island