Overview
Trip Outline
Trip Includes
Trip Excludes
Gallery
Reviews
Booking
FAQ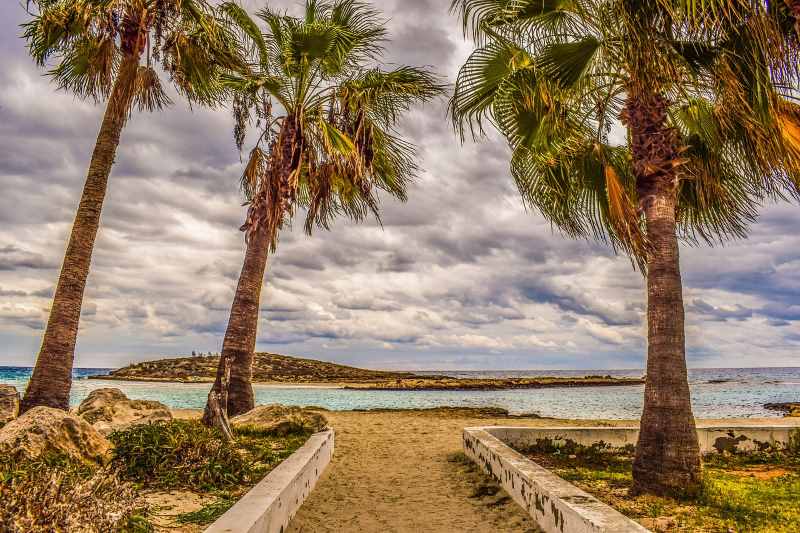 Ayia Napa
attracted its first tourists (mostly Scandinavian) on the back of its incredible beaches. There is a selection of idyllic powder white sand beaches. The water is crystal clear with a lovely blue-green color. The water tends to be quite shallow. Even if you are a swimming pool person, visiting Ayia Napa's beaches will surely convert you. Every beach will have a water sports center so make sure you know the boundaries of the swimming and powerboat areas. Food, drinks, umbrellas and sun beds are all available for 2.5€ each but you need to get there early to reserve yours. Paragliding is widely available while bungee jumps come in and out of fashion.
Ayia Napa
resort has 27 beaches, of which 14 have been awarded the blue flag award, more than any other resort in Cyprus.  In 2018, it was announced that Nissi Beach, ranked as 3rd in the list of the most popular beaches in Instagram A CNN feature ranked Nissi Beach as the best beach to visit for the month of July 2018. In 2011, it came first in the TripAdvisor list of the best beaches in Europe. In 2017, Makronissos Beach was chosen by Travel weekly as the third (3rd) best beach for Cyprus and Greece.
Nissi Beach
Nissi Beach is the most infamous of them all. In the height of the summer you need to get there early to reserve your patch. There are several reasons why Nisi beach is one of the best beaches in Ayia Napa. It is about 3 km away from the center of Ayia Napa, and it got its name from a small island located only 45 meters from the coast. The sea between the main beach and the small island is quite shallow. Thanks to that and their short distance, a special sand bar was created that connects the island and the beach. This rare and remarkable phenomenon is considered as a landmark not only of Ayia Napa but of the whole of Cyprus. The sea on this beautiful beach is shallow, with a shoal that gradually passes into the depths. It is warm and ideal for children as well as for people who are not excellent swimmers.
Makronissos Beach
Just as nice (if not nicer) as Nissi Beach, a bit further away. At times less busy and more family orientated.
Little Makronissos
Makronissos 1 Beach or "Little Makronissos" is located near the marina in Ayia Napa. Children especially enjoy in this beach because of the shallow water that stretches several tens of meters in the distance. It is easy to reach beach from the main street "Nissi Avenue" (there is also a bus station), and nearby is the Water Park.
Grecian Bay
Also known as Harbour Beach or Limanaki, or Pantachou Beach it is the closest sandy beach to the centre of Agia Napa. This is a beautiful beach that stretches along three coves to the east of the small fishing harbour. Near the beach there are luxury hotels, outdoor restaurants and snack bars.
Sandy Bay
Sandy Bay (or Vathkia Gonia) is a sheltered beach nestled between two headlands. It is popular with families and is more low key and quieter than its busy neighbor (Nissi).
Konnos Bay
Konnos Bay is truly one of the most beautiful beaches in Europe and is very popular with locals and tourists alike, due to it being surrounded by mountains and having crystal clear waters. It is in the Cape Greko area and half of it is in Ayia Napa territory, while the other half belongs to Protaras.
Landa Beach
Landa is a 400 meter long sandy beach located halfway between Nissi and Makronissos beach. It is also known among the locals as "Golden Beach" or "Lanta Beach". It is about 4 km from the center of Ayia Napa. Since it is located in a bay, it is well protected, but there is no natural shade. There is a picnic area within the beach, and you can easily reach it on foot, by bike or car.
Ayia Thekla
Ayia Thekla (Aja Tekla) is a beautiful small beach named after the famous church and chapel next to it. It is located at the very entrance to Ayia Napa, at a distance of about 6 km from the center of Ayia Napa. It is 300 meters long, sandy and located within the special SPA network "Natura 2000".
Glyki Nero Beach
Glyki Nero Beach is the main beach in Ayia Napa located near the city center. It is sandy (white sand) with a long shore. The shallow water extends into the distance making it ideal for children and fun. Many luxury hotels, bars and restaurants can be found here.
Dome Beach
Dome Beach is located in the west of Ayia Napa and is popular for families with children. During the winter months, various surfers come here when the conditions for surfing are good.