Overview
Trip Outline
What to see and Do
Trip Excludes
Gallery
Reviews
Booking
FAQ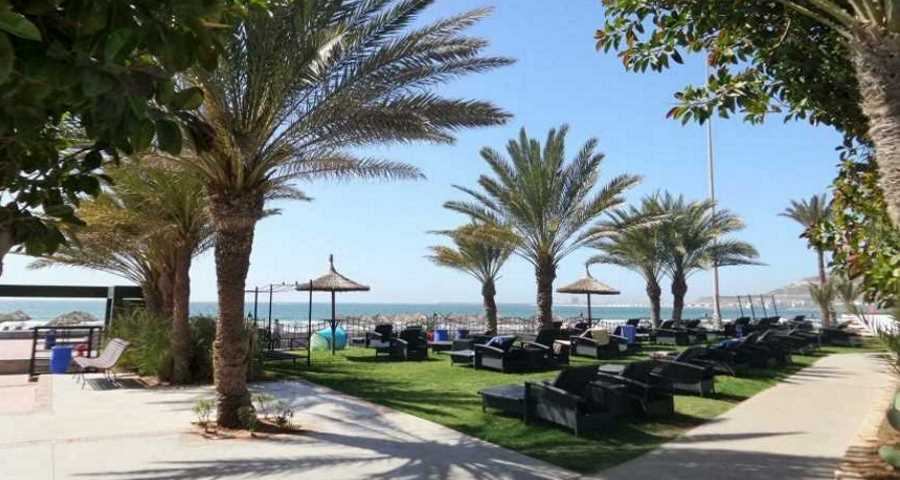 As a tourist, there are lots of surprises that await you if you decide to visit Morocco. The reason is that there are many parts of Morocco that are beautiful and well suited for vacation purpose. Agadir is one of such outstanding places. The Moroccan city of Agadir is a combination of beautiful sites, amazing beach lifestyle, awesome culture and fun-filled activities that will give tourists a unique and memorable lifetime experience.
Agadir is considered by many people to be the best and leading coastal resort in Morocco. It's beautiful and appealing beach extending over 8 kilometres in length is extremely popular for its golden, clean and glorious sand. There are richly built and top-class four and five star hotels with state-of-the-art facilities spread along the beach. The security is top class, with police patrolling the beach to ensure that people swimming and sunbathing do so in a more relaxed and secured environment.
Agadir and its splendid surroundings offer more than just favourable climate and relaxing atmosphere. Apart from those who just want to swim, relax and bathe in the sun, it is the perfect place for tourist seeking to have active and action-packed experience. Here you can partake in all sorts of water sports, playing tennis, golf, scuba diving, trekking and jogging while enabling a wonderful view of the landscape, vineyards and the sea.
Due to the devastating earthquake There are practically no more historic buildings in Agadir - the Old City and Medina have completely disappeared from the face of the earth.
See the Ancient Fortress
The central symbol of the ancient city of Agadir is the Agadir Kalabash. Kalabash, surrounded by a fortress wall with bastions was built in the 16th century. Unfortunately, the earthquake destroyed most of the fortress.
In addition to a few walls of the once mighty fortress, you can also see several small stone mosques built in memory of the victims of the tragedy, several pleasant cafes and a lookout point with a beautiful view of the entire city and harbor.
The Kasbah or Agadir Do Ighir
With the development of tourism, it was decided to compensate for the absence of the ancient medina in Agadir - in 1992, the architect Coco Polizzi made an authentic old town from natural materials and built on traditional technologies, which became an inhabited open-air museum. In addition to residential buildings, there are numerous workshops, shops and stores.
The splendor of East Boulevard
The lively and spacious modern center of Agadir is more reminiscent of the European style than the Eastern, not only in its layout, but also in the appearance of the inhabitants - women do not cover their faces, and men wear European clothes. Here we can find wide avenues and shady boulevards, beautiful parks and magnificent squares.
A significant place is Mohammed Fifth Boulevard. Every tourist who comes to Agadir should see this street to immerse themselves in the world of Eastern trade and admire the magnificence of the local architecture that combines European elements and the abundance of Eastern motifs. If you want, you can buy almost everything here - clothes, shoes, various souvenirs and accessories.
Agadir Souk.
Agadir has one of the largest markets in the country - Agadir Souk. At this giant oriental bazaar you can buy a variety of food products, unusual Moroccan lamps, souvenirs and leather goods, carpets and national jewelry. Leather goods and carpets are made in front of customers!
New Talborzht
The bustling city block, New Talborzht, is home to the city's main temple - the imposing Mosque of Muhammad V, richly decorated with carved wood, with a tall minaret, resembling the world's tallest minaret of the Moroccan Hassan II Mosque in Casablanca.
Town Port
Agadir has a huge seaport with many colorful old and modern ships, boats and yachts. Now the trading port, once the most important in Morocco, has turned into a major fishing port supplying the world market with most of the entire North Atlantic sardine caught.
Zoo Park
The local zoo "Valley of Birds", dedicated to exotic birds, is one of the city's attractions. But apart from birds, several llamas and mountain goats live here.
Crocopark Nature Reserve
14 km east of Agadir is the Crocopark Nature Reserve. It is home to Nile crocodiles, which were common in Morocco until the early 20th century, but were completely exterminated by hunters. In this park you can see these animals in their vicinity and for them almost natural environment.
Paradise Valley
Not far from Agadir, near the High Atlas Mountains, there is a beautiful place, called the "Paradise Valley". Barbers here traditionally engaged  agriculture and production oranges, cacti, lavender and lemons. The mountains offer exciting trails for mountain bikers. Near the valley you can see a "white waterfall", whose water flows through limestone.
Museums
Several city museums can be good entertainment for a cloudy day. The Bert Flint Museum is a branch of the Marrakesh Museum of the same name and is located on Mohammed V Avenue. Here you can see items from the collection of Dutch travelers related to Berber culture and art, including furniture, costumes, carpets and jewelery. Also interesting is the Berber Museum, which exhibits about 200 exhibits, including carpets, pottery and traditional jewelry from the 18th-19th centuries. The city also houses the Earthquake History Museum (on President Kennedy Avenue).
Earthquake History Museum will tell you about the terrible natural disaster that happened here in 1690. The museum shows what happened to the city after the earthquake and how Agadir was reborn.
Medina Coco Polizzi,
Medina Coco Polizzi is a beautiful modern building with a traditional style, is full of art shops and handicrafts.
Shopping
"Uniprix" is ​​the largest of the most entertaining and affordable shopping malls in Agadir. The price of popular products here is intended for budget buyers. Hypermarket "Marzhan" is another popular shopping place that offers a rich selection of local delicacies, spices and other goods whose price is lower than on the market.
The shop "Echappee Belle Etape Berbere" offers the richest variety of original things: clothes, shoes, many different items, works of art, even furniture, and everything is done in ethnic style. The prices are quite high, but the product is extremely exclusive.
Women should definitely visit the Argan store, where the souvenirs and cosmetics presented are made from argan oil: handmade soaps, creams, hair and body products and much more. The Ensemble Artisanal store is no less interesting for its exclusive items made of ceramics, wood and leather, luxury fabrics and handmade carpets. By design, the store is reminiscent of a true national art museum.
Nightfall In Agadir
When dusk set in, the large promenade in Agadir is agog with locals and tourists; bars and cafes can be seen everywhere You can relax and sip a tasty Berber tea (a combination of dried mint and green tea leaves), grab a bottle of pint, have an all-day breakfast of pizza or puff on shisha at the English Pub. Again, you can follow the lively crowd to wonderful lounges such as Lofts, and witness acrobats arrayed in purple leotard tied to strips of fabrics dangling from the ceiling.
Entertainment galore
Aside from the fact that you can relax, perform sport and cultural activities, there are plenty of local restaurants and clubs that offer rich and entertainment filled live services on summer terraces.
The La Cote d'Or restaurant is the perfect place where you can sample those tasty pickles and bananas.
Located a bit down the promenade is a 24-hour restaurant & bar service—Jout et Nuit, the perfect place where you can party till sunrise.
Papagayo is all ready to entertain your disco dance, even as the night club at Hotel riu Tikida (one of the most popular) is looking forward to leave a lasting impression on your visit.
Get ready to be thrilled every Thursdays, as renowned DJs set up camp at the main terrace overlooking the large pool area.
For calmness, trust Cafe Maure that has a wonderful terrace giving you perfect views of Agadir's broad golden beach.
You can have a private beach section at Robinson Club. And to satisfy your shopping needs, visit Souk El Had, just a ten minutes drive away.
Accommodation
The city offers various accommodations that comply with every taste. Aside from vacation villages, campsites and hotels; you can also enjoy your visitation moment with the locals in private accommodations settings. There're modern and well designed bungalows, rooms and apartments along the Agadir coastline, near or further from the sea. There are five and four stars rated hotels like Agadir hotel, Atlantis Palace Agadir, Royal Mirage Hotel, Caribbean Village Agadir Resorts…and the list goes on and on.
All of these will ensure that your stay in Agadir would be a moment to remember.
Activities
Dune buggies together with jet skis are popular among the tourist. Tourists are also presented with the ample opportunity to engage in Carmel and Horse riding along the beach. Encounter the most significant attractions in Agadir—the 3 Golf courses—Agadir Royal Club, Dunes Golf Club and Golf du Soliel; as well as with numerous tennis courts—all for your interest.
The surrounding water of the city that has almost constant winds and access to the sea provides a comfortable and outstanding climate temperature for windsurfing. There's a part of the city beach where the sea water is quieter—a perfect place for learners, while the much-skilled surfers can try their skills in the open, especially when a strong north wind blows forth.