A Baiona is a medieval coastal town in Galicia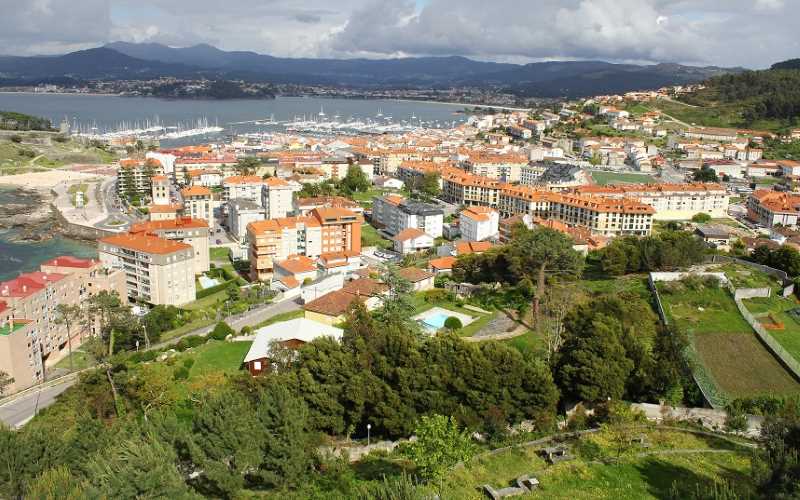 Located on a ledge above the sea where is the formidable Monte Castelo Real (today a Parador) and around the old port, the town is a cluster of beautiful stone and granite houses emblazoned declared a Historic-Artistic Interest. Bayonne is a city made for walking.
Its narrow cobbled streets are dotted with restaurants under arcades, charming small hotels, churches and endearing. Another corner that you can not miss is the park surrounding the Castelo and the spectacular surrounding walls falling into the sea. From there a beautiful view of the Cies Islands.
Located in the Spanish province of Pontevedra, Baiona was established in 140 BC, and throughout history has had a number of names including Balcagia and Erizana. It is sometimes called Bayona. You can get to Baiona by bus or train from Vigo, or by car on the AP-57 motorway.
Although the population of Baiona is estimated to be about 12,000 people, in Summer the population more than triples owing to an influx of tourists who come to enjoy the coastal town's beauty. Unlike most parts of Galicia, Baiona experiences warm and sunny weather, and with six very lovely beaches, and a number of tourist attractions, Baiona has quite a lot to offer any tourist.
Within the official Spanish category of Paradores of Spain (hotels with a historical and architectural value), Baiona counts with a good example of a well-preserved historical building. Surrounded by a stone wall, sitting in a small peninsula, the old hotel and restaurant watches the entrance of the Rias Baixas and the Cies Islands.
Some of Baiona's most popular tourist attractions include historical sites such as the Santa Maria Collegiate Church, the Monte Boi Wall and the Virxe da Rocha. Virxe da Rocha, also called Virgin of the Rock, is a granite monument created by Antonio Palacios which offers an excellent view of the town. On Elduyan street, there is Caravel La Pinta, a replica of Christopher Columbus' fastest ship, which made the town famous with its arrival here in 1943. There is a festival in Baiona on 1st March every year, the Fiesta de la Arribada, commemorating the arrival of the ship. Caravel de la Pinta also houses a small museum which gives visitors a glimpse of what it was like sailing on the famous Christopher Columbus ship.
Other must-sees include the Fortaleza de Monterreal, an old fortress in Monte Boi, and the Cabo Sillerio, a lighthouse which dates back to the 1800s. Many tourists have found these sites, and the old town in general, a great place to walk about and explore.
Visitors to Baiona can also enjoy any of its six beaches; A Ladeira which is the largest, A Concheira and Os Frades which are near the Monte Boi walk, A Riberia and A Berbeira which are next to the Monterreal Castle and Santa Marta. If you like biking, you'll find guided biking tours available. For those that love nautical tourism, the Monte Real Yacht Club offers sailing and yachting services.
There are lots of places to savor Baiona's culinary delicacies including O'Rizon on Calle Areas and O Mosquito on Elduyan Street. As it is a fishing town, expect a enjoy a lot of seafood. The town also has quite a nightlife with a number of pubs which remain open until morning.